Medical IT Convergence Research Section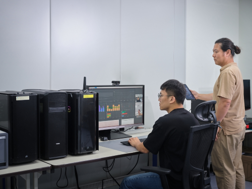 The Medical IT Convergence Laboratory aims to create a new medical industry by developing medical ICT fusion technology based on Daegu and Gyeongbuk province and aims to strengthen technological competitiveness of SMEs through open R&BD.
We mainly focus on discovering medical ICT convergence technologies that satisfy the needs of the end-users (hospitals and companies). We also jointly develop key technologies for smart medical devices which satisfies the technical demands of the business in the local region.
In addition, we continuously support the needs that arise from safety testing such as electrical and mechanical stability tests, animal tests, and other test requirements for the commercial approval of medical devices.

Director Chi, Eun Chang
TEL.

+82-42-860-6363

FAX.

+82-53-670-8008