Public Relations Department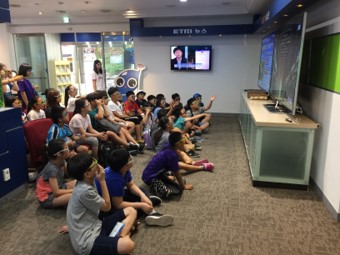 The PR Department is comprised of the PR team and liaison team. It manages overall public promotion businesses to popularize and expand the scientific culture to the public by domestically or globally acknowledging the results of research and development by scientists.

The PR Department promotes technical transfer by aggressive promotion on the R&D performances by researchers in order to contribute to the healthy and comfortable lives of the public and to national development by commercialization of technologies developed by researchers. Through such efforts, the PR Department makes every endeavor to establish the image of a 'Smart and Green Technology Innovator' as the best research institute in the IT field.

With the goal of 'Maximization of ETRI Brand Value by Strategic Promotion', the PR Department devotes itself to 'enhancing promotion to the public,' 'improving digital promotion' for strategic action in this digital promotion age, and 'strengthening communication channels' to lead the activation of global and domestic communication.

With ETRI as the best research institute in the IT field, the PR Department will make every endeavor to acknowledge us as the research institute devoted to research day and night to be on the frontier taking the lead in making scientific culture a part of our daily life as well as widely acknowledging the scientific culture through IT technology.

Executive DirectorPark, Jong Pal
TEL.

+82-42-860-3900

FAX.

+82-42-860-5848
Public Relations Department