Management Division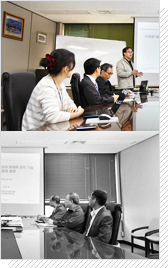 Management Division consists of the following for sub-sections : (1) Management Strategy Department (2) General Affairs & Security Department, (3) Human Resources Development Department, (4) Financial Management Department. We are performing tasks as follows; Institute business performance planning, Organization management, pushing ahead with customer satisfaction, quality management, Institute's events of various kinds, upgrading working conditions, safety and security supervision, facilities management, human resource administration and strengthening of ability, welfare program, labor management, accounting, purchasing, asset management and so on.

We present a following slogan, "Management Strategy Division, Let's move!" and want to put driving strategy into practice so as to carry out our vision, "ICT Innovator leading the fourth Industrial Revolution". Our driving strategy is as in the following.
First, We will construct open management system for sustained growth of Institute.
Second, We will make safe and exuberant research environment.
Third, We will operate improved personnel management system for making cooperation culture and enhancing speciality.
Finally, We will strengthen consumer-intimate financial administration service.

We will do our best to enhance ETRI's ability in rapidly changing business environment, and be the true 'ICT Innovator' building up new tradition.

Vice PresidentOh, Seong Dae
TEL.

+82-42-860-0800

FAX.

+82-42-861-1033