Telecommunications & Media Research Laboratory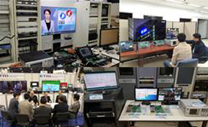 Our laboratory is engaged in various research activities aimed at realizing "ultra realistic services to improve the quality of life" where tera media and terahertz technology for the future of society will be realized through the efficient use of satellite infrastructure and frequency resources to promote the public safety. Our laboratory approaches the issue comprehensively, covering all areas that are likely to be concerned with convergence including broadcasting, radio, and satellites.

- The key objectives of our researches are to develop the next generation core broadcasting and media technologies and international standards, to create the ultra-realistic global services by development and diffusion of Terra media technology , and to improve the facilitation of RF resource service with advancement and enhancement of RF resource application based on the Tera-herz technology. Also, our laboratory is to establish a national social safety environment to respond the disasters effectively by developping the Satellite System for Disaster relief and Meteorological Satellite Ground Station.
- Our laboratory is responsible for generating world-class research results and has a list of big achievements in Korea, primarily in the areas of T-DMB, high-definition 3D TV, open IPTV, and COMS 1 (Chollian) satellite communication transponder and CR technology.

The research areas on which we are currently concentrating our resources are ultra-realistic media, satellites, radio technology for satellite/wireless. Ultra-realistic media include 3D TV, UHD TV, panorama and AR broadcasting. The satellite field includes the broadcasting/communication satellite tower system, payload navigation, next-generation VAST and ground station, RF and MMIC. The radio technology for satellite/wireless includes frequency sharing and radio wave engineering, the development of future radio wave technology and frequency resources, electromagnetic environment, and the adaptation of radio waves in real life such as transferring wireless power. Also, we are conducting basic research, such as Terra Media Services and teraherz technologies unfolding in the next generation.

The Broadcasting and Media Research Laboratory will continue doing its utmost to become the most outstanding laboratory in the world in the area of broadcasting and media on the basis of its strong commitment to assisting Korea's advance towards becoming the global number one media country.
Vision

Tera-Media Technology Frontier.

Senior Vice PresidentBang Seung Chan
TEL.

+82-42-860-5515

FAX.

+82-42-860-9566
Telecommunications & Media Research Laboratory