Seoul SW-SoC Convergence R&BD Center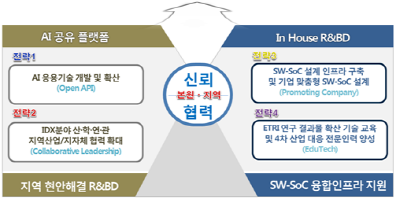 A system semiconductor integrates various functions of a system into a small chip by combining the hardware and software. The system semiconductor has been spotlighted as a significant potential new growth engine for the nation, through application to different industries, such as automobiles, BIO and Green semiconductors, Smartphones, and DTVs.

Seoul SW-SoC R&BD Center has been working to promote the system semiconductor industry by training high-quality design human resources in IT convergence through education programs for graduate students and company employees based on industry demand.

Seoul SW-SoC R&BD Center is also trying to strengthen the competitiveness of small domestic system semiconductor businesses by supporting SoC infrastructure.

In addition, Seoul SW-SoC R&BD Center will play a core role of building an infrastructure for the global innovative products by obtaining the open platform for smart compliances with SW-SoC component technologies and expanding the platform to mobile, vehicle and smart energy applications.
Vision

Core Hub for Software and System Semiconductor Industry Promotion

Goal

To Build SW-SoC R&BD EcoSystem

Vice PresidentNa, Jung-Chan
TEL.

+82-42-860-6646

FAX.

+82-31-739-7264
Seoul SW-SoC Convergence R&BD Center

Research Supporting Section