ICT Strategy Research Laboratory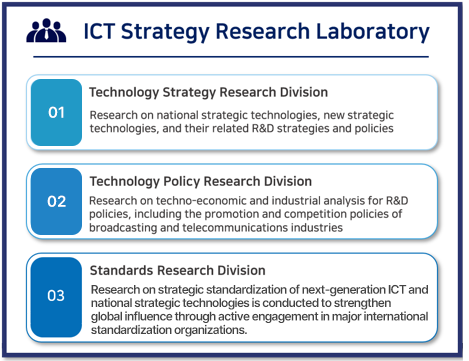 ICT Creative Research Laboratory with the vision and goal of "leading the future ICT technology through disruptive creative research" is carrying out challenging research and development of new future ICT technologies in order to contribute to the realization of the 4th industrial revolution and Beyond-5G hyper-connection society.

To achieve the vision and goal, ICT Creative Research Laboratory is researching and developing cutting-edge future technologies such as human-enhancement devices, cloud-intelligence enhancement devices, neuromorphic devices, quantum computing SW/HW, quantum communication, tera-bps photonic/RF convergence components, wearable super-sensory communication, holographic space-interaction devices, and ultra-light AR/VR devices, etc. In addition, ICT Creative Research Laboratory is exploring and researching more basic underlying technologies such as terahertz devices, synapse-based emotion cognition devices, nano-electron source, 2D/nano semiconductors, meta materials, and quantum devices, etc.

By creating synergy from the collaboration with industries and research institutes domestic and abroad, ICT Creative Research Laboratory also will do its best to help domestic component companies to take the lead in new markets and become global enterprises making Korea a strong nation in the field of ICT devices and semiconductors.


Senior Vice PresidentHAN, Seong Soo
ICT Strategy Research Laboratory