Future Computing Research Division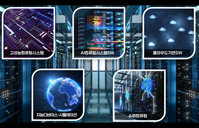 The Future Computing System Research Division is dedicated to researching and developing super-performance computing systems for fast learning and real-time, high-efficiency inference of hyper-scale artificial intelligence models. We are exploring a memory-centric approach to computing architecture and developing new mechanisms for data processing and management to accelerate the processing of large-scale data and overcome existing limitations. Furthermore, the utilization of multi-cloud technology facilitates the efficient provision of a diverse range of AI services through the interconnection of high-performance computing technology with cloud services located across the world.

Currently, our division focuses on a range of research areas, including high-performance computing systems, cloud computing software, supercomputing, edge computing, storage systems, AI computing systems, intelligent CPS platforms, embedded intelligence, software for quantum computers, and modeling and simulation.

Assistant Vice President KIM, Kang Ho