Mobility Robot Research Division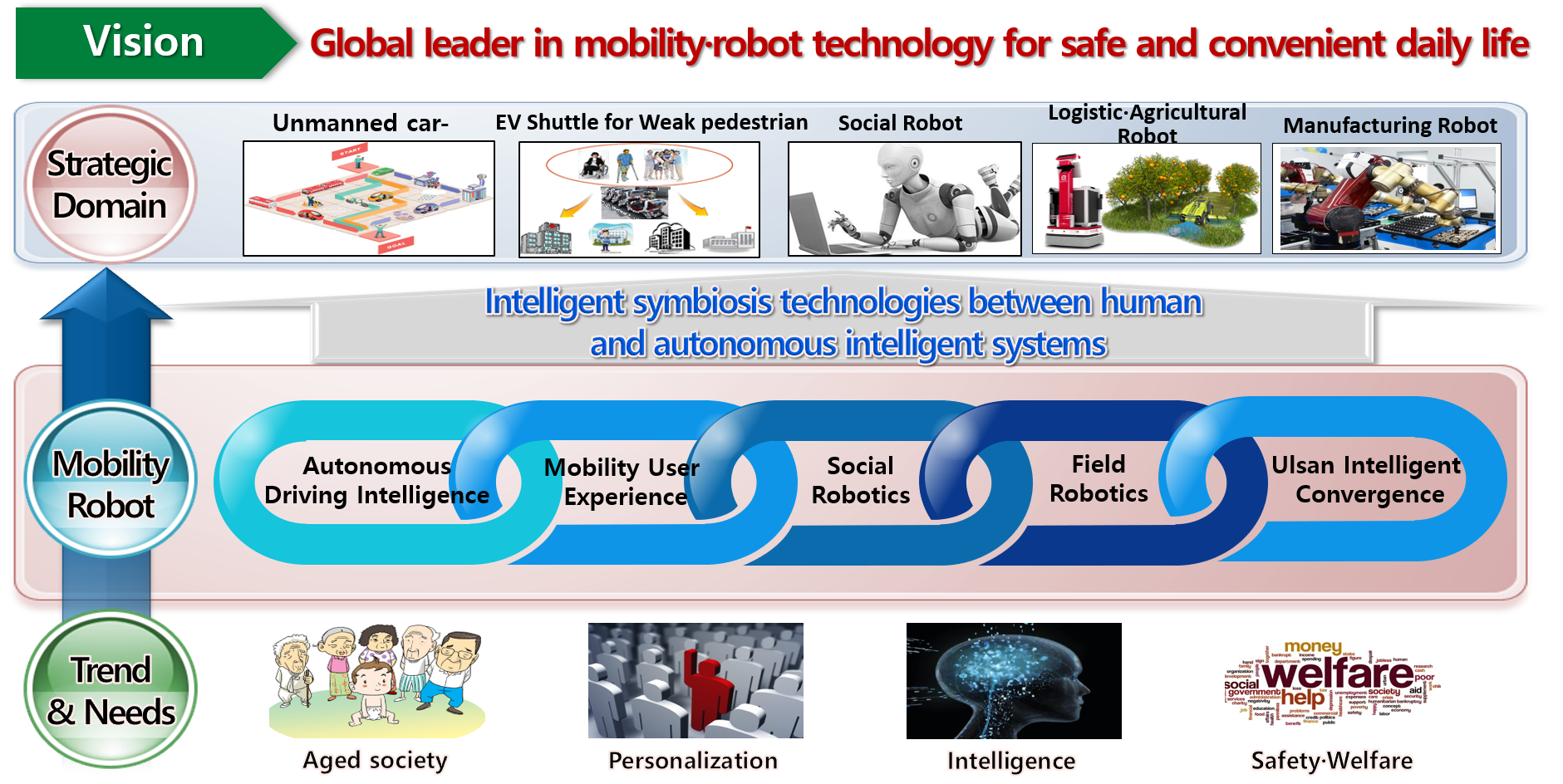 The Department develops core intelligent robotics technologies that can operate autonomously, safely, and intelligently by judging a given situation on their own in order to prepare for future social changes such as aging, reduced labor force, and changes in the mobility environment.

Mobility Robot Research Division is composed of the Autonomous Driving Intelligence Research Section, the Mobility User Experience Research Section, the Social Robotics Research Section, the Field Robotics Research Section and the Ulsan Intelligent Convergence Research Section.

The Autonomous Driving Intelligence Research Section, which is engaged in the field of smart cars, is currently researching and developing V2X connected perception, and is planning and controlling core software designed to improve driving intelligence through the collection of driving data and machine learning. It is also making efforts to develop standards in these fields.

The mission of the Mobility User Experience Research Section is to define societal and technological issues on the current and future Mobility areas and to provide Human Mobility core technologies via mental model based human factor in-depth research and UI/UX for various mobility users.

The Social Robotics Research Section is conducting R&D focused on user information/activity recognition based on robot vision, and autonomous interaction of robots for social robots and human-care robots.

The Field Robotics Research Section concentrates on researching core technologies for the navigation and the tasks execution of various field robots for human in incomplete and uncertain indoor and outdoor spaces such as logistics/manufacturing/agriculture/urban environments.

The Ulsan Intelligent Convergence Research Section aims to build the creative ICT convergence of an ETRI-regional SME(small and medium enterprises) cooperative research cluster through customized, field-oriented research and to enhance the technical capacity of the region.


Assistant Vice President CHOI, Jeong Dan