Future Computing Research Division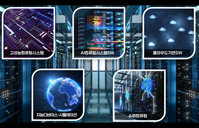 Infra/Core Software Technology Research Division performs research and development on high performance computing, cloud computing, embedded system, and dependable CPS technology.
In the field of high performance computing, we are actively developing novel computing architecture, system SW (operating system and virtualization), and storage technology. Cloud server, application virtualization, cloud storage technology are focused by the cloud computing research group. Our dependable CPS research group covers smart factory platform, and safety-critical SW platform technology. In addition, we are playing a key role in embedded devices field by developing low-power lightweight IoT operating system, and HPC technology.
Major achievements include low-cost scalable storage system, in-memory virtual desktop system, flight control operating system, and energy efficient tiny operating system.
Our field of research is expanding to cope with the future intelligent information industry. We are conducting research on processor-memory-storage converged novel computer architecture and core system SW, cloud chaining technology for decentralized computing infra, CPS technology that blocks the source of an accident, human embedded system core technology, which is opened to the public, for aged and disabled people.

Assistant Vice President Kim Young Kyun