Medical IT Convergence Research Section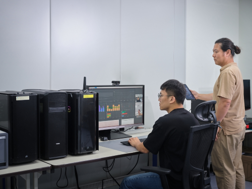 ○ Study on The Medical IT Convergence Technology
The Medical IT Convergence Research Section aims to create a new medical industry by developing medical ICT fusion technology based on Daegu and Gyeongbuk provinces and to strengthen technological competitiveness of SMEs through open R&BD.
We are continuing to discover medical ICT convergence technologies centered on end-users (hospitals and companies). We are developing key technologies for smart medical devices that reflect local needs and local needs through joint research with companies.
In addition, we are continuously supporting the necessary electrical and mechanical stability tests, animal tests, and commercialization of products required to obtain approval for medical devices.

Director KIM, Kyu Hyung
TEL.

+82-53-670-8061

FAX.

+82-53-670-8008