Radio & Satellite Research Division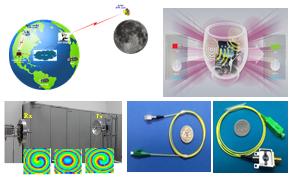 Radio resources have played an important role in the era of the Fourth Industrial Revolution, and the demand for radio resources has been rapidly increasing. And mobile communication services are changing from flat to solid as they are combined with satellite technology.

The Radio & Satellite Research Division has been developing technologies to efficiently use the radio resources, technologies to cope with adverse effects of radio resources, radio base and fundamental technologies to create new services, RF and antenna components technology, and satellite technologies reflecting the trend of the times.

To accomplish these purposes, the Radio & Satellite Research Division consists of six sections such as the Radio Resource Research Section, the Radio Environment & Monitoring Research Section, the EM Wave Basic Technology Research Section, the Satellite Widearea Infra Research Section, the Communication RF Research Section, and the Meteorological ICT Research Section.

Ultimately, we are trying to make our country become a radio-satellite powerhouse.

Assistant Vice President PARK, Seung Keun