Industrial Energy Convergence Research Division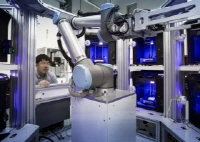 Industrial Energy Convergence Research Division is developing ICT technology for the industry intellectualization and the next generation IoT technology in the 4th industrial revolution era. The main research technologies in the industry intellectualization include the ICT convergence based technologies of flexible & reconfigurable production in the plant, open manufacturing service platform connecting the plant, future factory technology producing personalized products without human intervention, and VLC(Visible Light Communication) technology in various industry applications for the preemptive response of the manufacturing paradigm shift.

The main research technologies in next generation IoT technology include intelligent edge IoT, autonomous IoT, digital intelligence twin, common convergence IoT technology, development of device IDE(Integrated Development Environment) based on micro services framework, and high-reliabile / real-time / multi-hop IoT network technology in the poor radio wave environment.

We also run a joint research section in Busan and have been co-developed a new paradigm media creation technology, and are expanding the joint research scope with ICT based medical treatment for the aged people, etc.
We aim to be a global leader in the future industries and the IoT intelligence technology division.

Assistant Vice President LEE, IL Woo