Air Mobility Research Division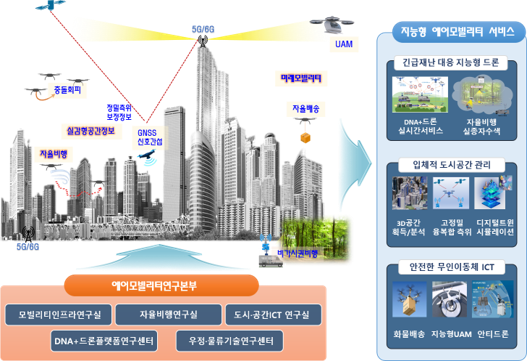 The Air Mobility Research Division conducts research and development of original convergence technologies with a mission of advancing the future mobility era, based on ETRI's competitiveness in computing, artificial intelligence, telecommunication, and so on.

It consists of three research sections and two research centers: Mobility Infrastructure Research Section, Autonomous UAV Research Section, City and Geospatial ICT Research Section, Postal & Logistics Technology Research Center, and DNA+Drone* Platform Research Center.

Our primary research areas include developing communication & infrastructure technologies for the safe operation of unmanned aerial vehicles, autonomous flight and mission execution technologies without human intervention, and geospatial technologies for precise unmanned aerial vehicle missions in urban congested environments. Our research domains also include drone-robot collaborative delivery technologies for contact-free unmanned delivery and DNA+drone platform technologies that enable beyond-visual line-of-sight flight, autonomous swarm flight, remote traffic control, and real-time AI analysis system.

Based on these technical development outcomes and know-how, all researchers in Air Mobility Research Division do develop the next-generation technology for the UAM convergence platform that is robust to various operating environments.

* DNA+Drone is a project for developing a convergence platform for drones, based on Big Data, 5G networks, and Artificial Intelligence technologies.


Assistant Vice President LIM, Chae Deok