Operations Management Department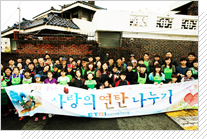 The Operations Management Department is comprised of the Operating & Welfare Section, Safety Security Section, Information Security Section, Facilities Operations Management Section.

We are in charge of housekeeping business affairs such as environmental improvements, information security, and facility maintenance etc. We also implement various corporate social contributions such as volunteer activities for rural communities to contribute to public welfare.

We have three operating targets which we practice as follows:
- First, we place a high value on principles, reliability, and harmony, and make the assurance of providing prompt and accurate services with kindness;
- Second, we endeavor to improve individual values by continuing self-development; and
- Third, we continuously strengthen the campaign for the implementation of a warmhearted community spirit.

We all promise to make every endeavor to satisfy customers with passion and a warm heart.

Executive DirectorLEE, Jeon Ho