Subminiature Gas Sensor Technology for Managing Indoor Air Quality
Writer

master

Date

2017.03.10

Hits

9331

File
Subminiature Gas Sensor Technology for Managing Indoor Air Quality
Senses gas by a change of electrical resistance occurred by electron swap

between sensing material and gas, and activates reaction by partially heating

with heater.




Sensing material uses a method evaporating large area like screen printing,

inkjet printing, chemical vapor deposition, sputtering, and etc.

Especially making high-thermal efficiency and high-stiffness designed micro

heater with CMOS-MEMS process and applying it to gas sensor, enables

materialization of subminiature low-power-consumption sensor.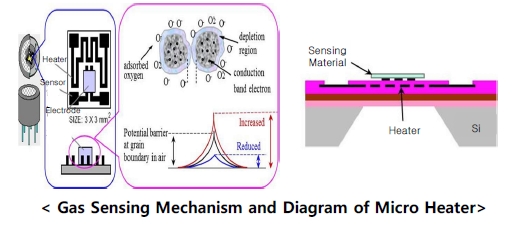 Contact Info.: Su-Jin Youn, +82-42-860-5092, sjy@etri.re.kr