SMEs Support Section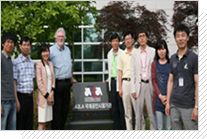 SMEs Support Section takes charge of "support for business convergence technology", "operation of international authorized testing laboratory for optical communication components ", "support for 3D convergence commercialization", and "verification of Q-mark of projects and technologies performed by Honam Research Center".

- International certification tests in optical communication : Honam research center is the only laboratory in Korea that is accredited by A2LA for testing optical communication elements, components, modules, devices and systems. According to 66 international standards such as Telcordia, IEEE, IEC, TIA/EIA, MIL-STD etc, the testing services includes 15 reliability test items for temperature/humidity cycling, mechanical shock, vibration, internal moisture test, and 42 performance test items for center wavelength, return/insertion loss, PMD.

- Support for commercialization of 3D convergence as a menas of cultivating 3D convergence businesses of broadband connection: The goal of this service is to create new value-added services by incorporating 3D image processing or 3D IT technologies into existing businesses. In particular, centering on Gwangju area, we aim to achieve balanced regional development through supporting infrastructure and commercialization services of "3D convergence biz center", 3D small giant enterprise by support for technology commercialization, cultivation of medium enterprise.

- Additional mission: "1 section 1 company supporting", "presentation of new technologies performed by ETRI", "surveys of customer satisfaction about various supports by Honam Research to SMEs", etc. We also support Q-mark verification for managing quality of R&D activities of Honam research center and R&D deliverable products for technology transfer.

Director You, Jung Hee