Superintelligence Creative Research Laboratory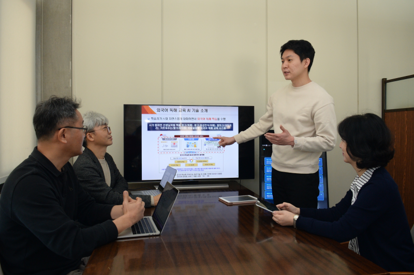 Super-Intelligence Creative Research Laboratory carries out diverse researches from Materials and Components to finished products, such as Autonomous driving vehicles & Robots, in order to lead the national competitiveness of technology. We seek to excavate the technique, which can be the epoch-making break-through rather than simple imitation, so that we can exceed limitations of present technologies, and prepare for next-generation technologies.

As the main research fields, there are next-generation AI core technologies that constantly see, hear, and learn like human, Intelligence Mobility that makes decisions on its own based on circumstances while functioning autonomously and securely at the same time, and Robot Techniques. Furthermore, in order to secure semiconductor technologies; materials, components, and equipment, which is the core of hegemonic competition among nations, we are doing researches on smart materials, next-generation semiconductor, and intelligent components technique. On the other hand, we are carrying out creative & defiant research, such as terahertz technologies, cyber-brain, brain link, and low-carbon integrations, which can fulfill inventive ideas in diverse ways. There is a risk of failure, but we ought to prepare for the next generation by planting emergent technique tree that captures the opportunity in uncertainty.

Super-Intelligence Creative Research Laboratory will continuously act out as catalyst role, which will make virtuous circle of domestic industry ecosystem, by research results technology transfer, API and data release. We will lead the global technology securement with a continuous collaboration on study with one of the world's top competitiors in research institute. We will carry on inventive researches in order to become the next generation technology leader in fields of AI, intelligent mobility & robots, materials and components.


Senior Vice PresidentMIN, Ok Gee
Superintelligence Creative Research Laboratory